Join us in celebrating how far the [email protected] Collaborative has come with innovation projects!
Take a moment and see testimonials from participants on how they bendefited from the [email protected] project. Then learn about what it takes to serve a community with an innovative idea. 

We're more than halfway through the journey of learning how to increase access to mental health care to those in need. [email protected] is a $75.2 million dollar innovation project that is funded as a result of Proposition 63 and the Mental Health Services Act (MHSA). This timeline shows  funding held by CalMHSA for city/county and  collaborative spending on innovation projects to:
• invest in developing local resources
• purchase devices
• acquire technology licenses
• develop the [email protected] website
• plan technology pilots
• translate Collaborative materials
• cover general project management and evaluation costs
Stars on the timeline (above) represent information such as reports and webinars that explain how funding fulfills the [email protected] purpose. Click on the years for each report to learn more. 
Blue Stars– Stakeholder Webinars (Events held to inform a program status for stakeholders)
Purple stars – University of California Irvine (UCI) Evaluation Report (An annual evaluation of on Collaborative project progress and stakeholder feedback)
Counties and cities implement or run [email protected] projects to learn how technology allows people to get access to mental health care. They are also able to discover if it helps. Implementations start with a plan to use technology such as an app. Next, counties and cities work with internal departments, Peers, and vendors such as companies that provide marketing and training to get everyone ready to use the apps. When planning is done, the implementation becomes "Active". This means that people are getting mental health care by using technology. When the implementation has ended or completed, UCI follows up with a final evaluation. This information can be found in the UCI Annual Evaluation Report.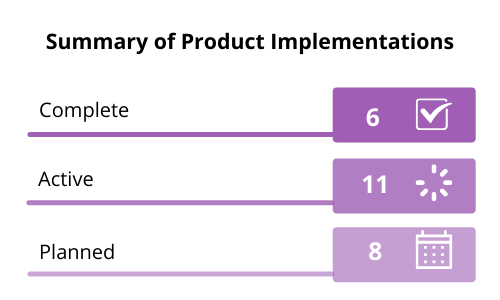 This image shows the number of implementations that are being "Planned", those that are "Active", and those that are "Completed".
Peers, Stakeholders and Licenses
A Peer is a person who publicly self-identifies with having a personal lived experience of a mental health/co-occurring issue accompanied by the experience of recovery and is trained to use that experience to support the people they serve. Their voices, or what they have to say influences training material, the marketing approach, and technology selection. The [email protected] goal is to incorporate Peer input, expertise, knowledge, and lived experience at all levels of the project, and to support the use of the apps through Peer outreach and training. To date, 116 peers have brought a wealth of knowledge and care that is critical to project success. Listen to Peer Voices and their experience with [email protected]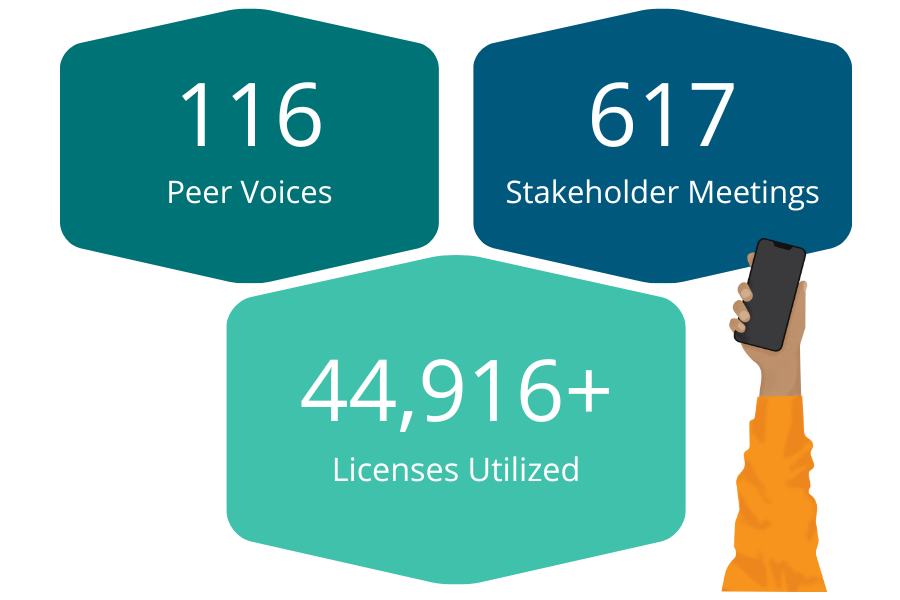 Great ideas come to light when the CalMHSA project team, Peers, community leaders, and government oversight and UCI evaluation teams meet. These are called Stakeholder meetings. Their goal is to increase participation in the [email protected] project. These meetings provide an update on what's been done and where the program is headed. They inspire stakeholders to brainstorm ways to increase participation in the [email protected] program. Since 2017, there have been an average of 6 meetings per month for a total of 617 to date.
Licenses are issued to mental health care consumers to use vendor services and app content. The number of licenses utilized allows us to see the growing interest consumers have in using mental health apps. This is called "adoption". Adoption means that people are accepting a new way of doing things. With over 44,916 licenses utilized so far, technology appears to be a promising solution to improve access to mental health care.
*This page was last updated: May 2022